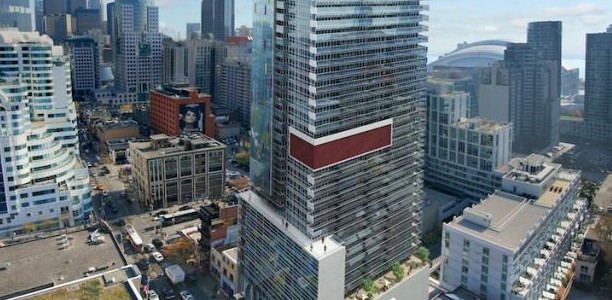 M5V Condos Remains an Example of Housing Excellence
TAS and Lifetime Developments have teamed up in a recently completed condo project called M5V Condominiums.
The structure, built in 2011, is located at 375 King Street West in Toronto. M5V soars to 35 storeys and includes 305 units. The suites start at $570,000 and vary between 617 square feet and 2,587 square feet. There are only a few suites available – 95% of the units are currently filled.
TAS is an award-winning developer, and the popularity of M5V is a testament to the quality living spaces available in the spectacular King West area of Toronto. The King West neighbourhood provides the ultimate urban experience. The condos are close to the Entertainment District, where residents can enjoy theatrical performances and art galleries, as well as shopping areas in the blocks connecting the two neighbourhoods.
King West hosts the annual Toronto Film Festival, a draw for people from all around. Restaurants abound in the area, perfect for a variety of culinary preferences. Parks are easy to come across in King West and the Martin Goodman trail, a lovely place to walk, run, or bike, is just a short walk from the neighbourhood. The trail is a perfect place to enjoy the waterfront area while getting some exercise.
To supplement the broad range of activities already provided by the area, residents also have access to several useful amenities within the M5V Condo building. Residents can exercise in the yoga and Pilates area or the fitness room. They can socialize or entertain on the terrace, barbecue area, sun deck, or the bar.
The games room and steam room provide ways to relax and kick back. M5V Condos is a few years old, but is still one of the only LEED certified condos in Toronto. The modern building rises high into the Toronto sky as a beacon for both high-quality living and sustainable architecture. For more information about M5V Condos, visit the developer's website or call to make an appointment.