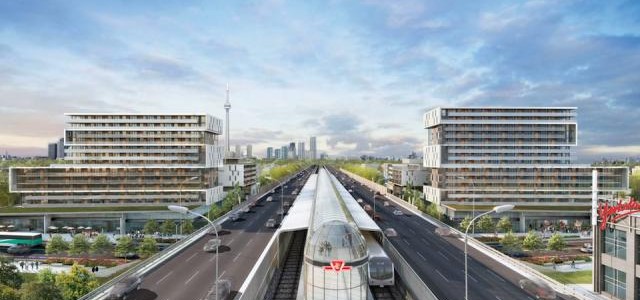 The Yorkdale Condos now selling, Reserve one today!
Context Development and Metropia Urban Landscapes are proud to announce their new development coming to Yorkdale, The Yorkdale Condos. If you like the Yorkdale neighborhood and if you like to shop, well know you can live there.
This development has the phrase style meets convenience written all over it. From the classic architectural design, to the luxurious finishes this condo will stand out as a gem among its rivals. You will be perfectly and conveniently connected to almost everything. The TTC and 401 right at your door step, no matter which way you are heading you will have quick access to all public transportation and high ways. This will be a commuters dreams, especially for the person that wants to live just outside of the city but wants to be able to get their fairly quickly and easily. No more commuting over an hour to get to work!
Situated in a prime location is being built right smack in the middle of one of the premier up and coming coming neighborhoods, Lawrence Heights. Also if that is not enough Lawrence Heights is surrounded by some of the best neighborhoods and communities which will easily help the grow of the overall development and bring a nice face lift to the local area.
What to be part of this exciting development? If you are interested in some extra information or would like to contact the Sale Representative please Click Here to be forwarded to the official sales site. You may also register here to receive a investors package and extra info concerning floor plans and price lists.
This is an opportunity you should not miss, at the moment there is a VIP Sales Event that will potentially save you lots of money before the actual of the condo begins. This sale will not last forever, once a certain amount of units are sold the sale will end. So do not delay and register your intent today to get yourself on the VIP access list.
Once the community is finished The Yorkdale Condos will feature over 3000 units which will consist of condo units, townhouses, and single family homes. The development will also feature plenty of green space, outdoors space, walking and bike paths. A community center and a school will also be part of this project once all the tenants move in.